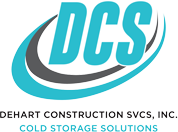 DeHart Construction Services
DeHart Construction is a market leader in the world of commercial construction companies because of our dedication to quality and customer service. Our business is to serve you better than anyone else in everything we do, from designing to remodeling, from renovating to ground- up construction. If you have a need for cold storage facilities, we can help! DeHart will deliver a finished project that is on-time, and well within your budget without taking shortcuts to reduce the quality of the finished product. Unlike other commercial construction companies, our team believes in taking a partnership approach on every aspect of your build, keeping your needs in mind while also leaving room for expansion in the future.
We are comprised of building contractors and other experts who aren't satisfied with anything less than the highest quality work. We strive be better than any other commercial construction organization, keeping customer satisfaction and worker safety at the forefront of our priorities. We keep our jobsites clean and hazard free, a testimony to our professionalism and dedication. Like other construction companies of our caliber, we encourage an open relationship between our clients and our team. We also provide commercial construction consulting services, complete with value analyses and an evaluation of the project needs. We even assist you in obtaining commercial construction loans. From there we determine the parameters of your project, prior to breaking ground. We value your time, and honor our commitment to a firm schedule, which is just one more reason why we are one of the best commercial construction companies around.
We encourage continuous and open communication between our project team and you, the client, throughout the construction process. It is our belief that construction companies like ours should maintain constant communication with our clients. This ensures that we stay on track, as well as providing you assurance that your needs and desires are being met with respect to the project. We schedule regular meetings to provide updates to allow this communication to occur consistently and effectively. Our commercial construction contractors are highly trained and well-versed in the latest, best practices and technologies in this field.
Cold storage construction is our main area of expertise; such an area of specialization requires the utmost attention to detail, and special considerations of the engineering aspects of the building of cold storage facilities. We give special thought to aspects such as high volume refrigeration, slab and foundation laying, and other features that make cold storage construction more involved than the builds typical commercial construction companies might be involved in.
At DeHart Construction, we stand by our work and take pride in our years of experience in commercial construction. In a world where most companies use substandard materials and other short-cuts to increase their profits, companies that do high-quality work are few and far between. Call us today to set up a consultation, and find out why the DeHart difference makes all the difference in your next project.
DCS Gallery