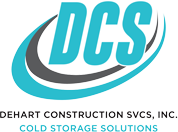 DeHart Construction Services
At DeHart Construction, we believe in providing our clients with much more than a cold storage solution. Our storage construction services include everything from cold chain storage consulting for food service providers and supermarket chains to cold construction of warehouses for short or long-term storage. We make it our business to make your business run at its peak by providing a cold warehousing solution that fits your company's needs. We strive to provide fast and convenient solutions. Our commitment to excellence and quality is unmet by any other cold storage construction service provider around.
Our storage construction experts come together to offer you the best solutions available for your business. From supply chain management to cold warehousing construction, we work to create and tailor a storage and warehousing plan that fits your specifications and budget. We specialize in the use of a wide array of technologies to help you store your inventory, manage your inventory, and track its usage and dispersal. We involve our clients in every step of these processes, so that you are always assured that your investment is being protected with infinite care.
Refrigerated storage represents approximated 15% of the warehousing market. The flow and availability of a sufficient and ongoing supply are what drive demand in today's market, and the same can be said of the cold warehousing market. To maximize your profits and ensure your success, you will want to consult with our professional construction professionals prior to determining how you will handle frozen food storage and refrigerated storage of other products.
Our warehousing consultants will analyze every aspect of your business before devising a plan to help you maintain or increase your bottom line. Our workers are highly trained and fully knowledgeable of all aspects of implementation with respect to Good Manufacturing Practices, Sanitation Standard Operating Procedures, Hazard Awareness & Critical Control Points, and Standard Operating Procedures. Our finished buildings will meet the specifications of even the most stringent of criteria. That's our guarantee.
Top notch construction starts with high quality design. That's vital to ensuring that your cold warehousing construction build meets your needs of form and function, with refrigeration equipment which lasts. DeHart construction is comprised of consummate professionals with a wealth of knowledge to help create food storage solutions which work for you. We have the engineering knowledge your firm needs to successfully guide you through every phase of your warehouse construction project. Our builds keep the fundamentals of thermal design and construction in mind, while also creating a final product that is as aesthetically pleasing as it is practical. Call us today to schedule a consultation about your next cold storage construction project.
DCS Gallery